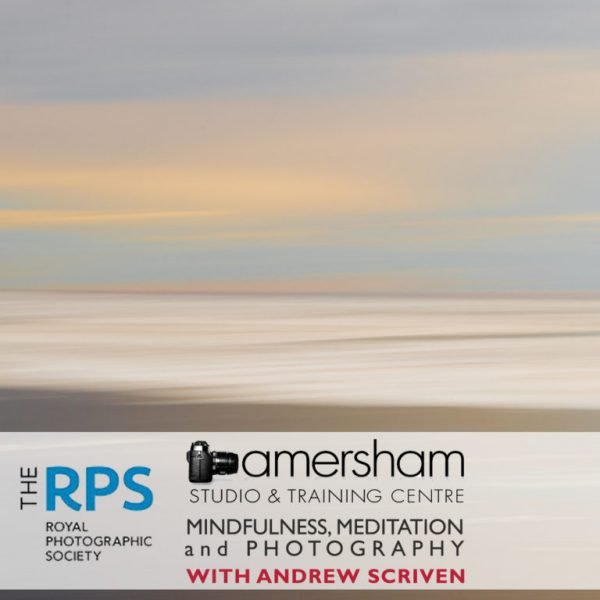 20th July – RPS INTRO TO MINDFULNESS, MEDITATION & PHOTOGRAPHY
Product Description
Is this for me?
This workshop is ideal if you want to explore mindfulness, meditation or simply re-think your creativity.
You will learn new ways of thinking and go on location during the afternoon.
You will need to bring a camera, boots, a coat and an open mind.
You will have the opportunity to shoot and put you new found skills into practice.
Why will this make me a better photographer?
Recognising the healing power of the mind and the importance of silence, Andrew Scriven considers the significance of intention and connection when shooting a photograph. The workshop will explore various procedures and techniques that can be used to help every photographer connect more fully with the present moment, the goal being to help restore peace and balance in our bodies and minds.
Short meditation Considering the power of our minds and reality as a perception. The importance of setting and intention. The first exercise with your camera will be to focus attention on the things we are seeing – colour, contrast, movement, people. The second exercise will look at blurring the lines of division, experimenting with shutter speeds and movement to represent reality. The gift of acceptance
Lunch.
Using music to focus our attention on the beauty around us and exploring our place within it.
Third photography exercise – Seeing and being beauty. Photography outdoors on location.
Return to studio.
Short meditation
Sharing experiences and photography from location shoot.
The benefits of printing and sharing our creations.
Taking control of our photography – Reducing the number of photos we are taking­­.
Summary of course
What's included?
Amersham Studios is the UK's foremost photography training center and working studio. We've created a warm friendly environment where no question is a stupid question and all makes and models of cameras are welcome. You'll get to play with the latest gear, spend time with our experts and leave a better photographer.
We limit the number of attendee to small numbers to ensure we deliver a world class experience.
As with all Amersham Studios courses will be providing:
– FREE transport to and from Amersham Station.
– Kick ass coffee, refreshments and cucumber water.
– A scrumptious buffet lunch (We'll ask about any dietary requirements by email a week before the workshop)

Our Experts Credentials:
Andrew Scrivens who won the 'Digital Photographer Wildlife Photographer of the Year', was a finalist of 'Sony World Photographer Awards', finalist of 'National Geographic International photo contest'. Andrew is also an Sony Global Imaging Ambassador and all round nice guy.
Andrew has been running workshops for 6 years and presenting for Sony at various photography events.
Not quite what you are after?
We now offer a number of bespoke workshops we've developed and deliver for the The Royal Photographic Society and will be adding more shortly.
Sign up here and we will send you details.